Demolish! Pairs
Additional information about the game
Demolish! Pairs has a talented production team, some simple game rules, and an interesting development story.
Credits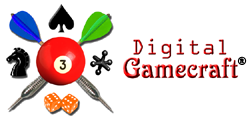 Game Production: Digital Gamecraft®
Design and Programming: Gregg Seelhoff
Artwork and Sounds: Rick Tumanis

Rules
Object: To clear the playfield by removing all blocks in matching pairs.
Rules: Pairs of blocks may be removed if they match and share an edge.
To remove a pair of blocks either:
touch on the first block (highlighting it) and then touch on the matching adjacent block, or
touch the first block and drag your finger onto the adjacent matching block.
If you touch a block, highlighting it, and then decide that you want to select a different block instead, simply touch the block a second time to unselect it. (You may also just touch the other block, but if it is adjacent and matching, the pair will be removed instead.)
When you remove blocks, any blocks resting on them will drop to fill the empty spaces. When you remove all of the blocks in a single column, the remaining blocks will slide together to fill the gaps.
Game modes: You may play in either Arcade Mode or Zen Mode (selected on the main screen).
In Arcade Mode, you need to remove blocks as quickly as possible in order to clear the playfield before your time runs out. You score points for every pair removed, while your bonus counts down. When you complete the level, you score the remaining bonus. If you do not clear the blocks before the bonus reaches 0, you have only a few seconds to finish the level, and if there are still blocks left when that time expires, you will lose a life. You start the game with 3 lives (but can earn more as you score points).
In Zen Mode, you can play at your own speed, indefinitely, without any time pressure. You score points for every block removed, plus a bonus for clearing the playfield, but you can move to the next level any time you desire. You may want to start with Zen Mode while you learn the puzzle strategy.
That's All! Have Fun!!
History
Demolish! Pairs began life as a secondary project in the early years of Digital Gamecraft. After many years of discussing the idea, we started actual game design in August 1999, and we completed the first playable (Windows) prototype shortly thereafter.
A couple of years later, Demolish! was promoted to primary development status; however, after just a couple of weeks, events in September 2001 put the project on hiatus indefinitely.
In early 2011, we revised the design to make the gameplay more abstract and appropriate for mobile/touch devices. We prepared for a release later in the year, roughly a decade after the project had been shelved. By July, we had a fully playable (iPad) prototype and all of our artwork and sound resources. That month our artist, Rick Tumanis, passed away suddenly, and progress was again halted.
After some time for mourning and adjustment, we now, finally, bring the iOS version of the game to you, complete with all of Rick's original artwork and sound effects.
More information
To stay informed of news and updates, please visit our news page, 'Like' Digital Gamecraft on Facebook, add Digital Gamecraft on Google+ to your circles, and follow @DigGamecraft on Twitter.